Tips To Manage Dance Classes & Busy Schedules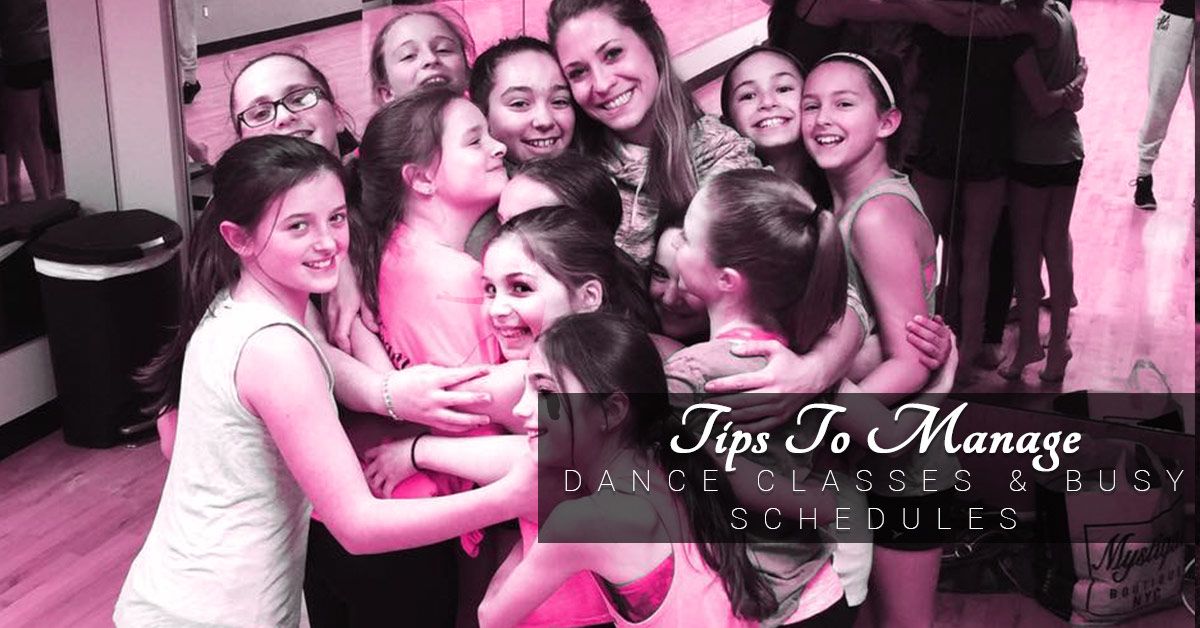 Kids are busy; you are busy which makes life downright busy. Just when it feels like you are coming up for air—something else comes up. If you are a parent with school-aged children, you can relate to the feeling that there never seems to be enough time in the day to get it all done, yet you do because of the amazing parent you are.
As if holding a full-time job, transporting kids to and from school, cooking dinner, and doing homework checks wasn't enough to fill your freetime—add extracurricular activities like dance classes to the mix and now you really have your hands full. Because you're an awesome parent, you don't want your child to miss out—but how in the world are you going to manage their busy schedules, let alone your schedule?
Miss Colleen's Elite Dancentre has years of children's dance class experience, and we have learned how other parents make it possible to balance busy schedules on a regular basis. Below are a few helpful tips that parents use to stay on top of schedules all while keeping their sanity.
Understanding your child's needs.

Every child is different. Some kids are always on the move leading up until bedtime—while others enjoy their downtime. If your child expresses an interest in taking dance lessons at an early age, it's important to think about what they require before diving in and enrolling them into a dance program. Questions to consider asking yourself are, "How many other activities are they enrolled in?" "What do their evenings typically look like?" "Have they shown interest in something before, but shortly after forgot about it?" By answering these questions first, this will help the rest of your preparation fall into place.

Create a steady routine.

Kids thrive on routine; it's best to create a consistent weekly schedule so that children know exactly what they need to do after school. Set a timer or an alarm to go off at the time they need to begin getting ready for their dance class.

Use a calendar or whiteboard.

This can be a fun project to do together and benefit the entire family. Make it a part of your weekly routine. Sit down together to look at the upcoming events for the week ahead. Write them in on your calendar. Get creative with stickers, different colored pens, and markers to help your child see what each evening consists of.

Stay prepared.

To help you on the extra busy evenings where you are rushing from one activity to the next, keep their dance bag packed and accessible. Designate a spot in the house where the dance bag belongs. Enforce the importance of the location and what items always need to be inside of the bag. Keep an extra lunchbox or bag filled with snacks and drinks that your child (and you) can munch on on the way to the evening's dance lessons.

Take a break.

Yes—this is very important to you and your child. Find an hour every evening to stop, sit down, and relax. Allowing time to unwind will help your household reset and stay motivated without feeling completely defeated. As hard as it might be for some parents, it's okay to say 'no.' Say 'no' to additional activities your child wants to sign up for. Say 'no' to anything that is not of high importance that you can't justify allowing to throw off your routine. Along with saying 'no', it is perfectly acceptable to ask for help. Sometimes, a little bit of help is needed to get your little one to the dance studio on time for their beloved dance lessons.
Whether this is the beginning of your child's dance career, or you've been struggling to balance your busy schedule, Miss Colleen's Elite Dancentre knows the importance of children's dance classes. You want your child's love for dance to blossom, although life can be busy, there are solutions to make everyday life simpler.
If your kiddo has shown interest in dance classes, look no further than Miss Colleen's Elite Dancentre. Your child will be in the hands of our professionally trained dance instructors who will teach the basics to ballet, jazz, tap, and hip-hop classes.
We look forward to working with your child! Contact us today to sign up for our elite dance classes!